Children and Invisalign, If you are asking yourself "is my child too young for Invisalign," trust me, you are not alone. Often, I am asked by parents going down the path of a healthier bite and smile for their child, "what's the best age for Invisalign?"
CHILDREN AND INVISALIGN
Children and Invisalign, If you are asking yourself "is my child too young for Invisalign," trust me, you are not alone. Often, I am asked by parents going down the path of a healthier bite and smile for their child, "what's the best age for Invisalign?"
The main thing to consider for Invisalign isn't necessarily age – it's to ensure your child is a true candidate. This is why it's always important to visit an Orthodontist – to evaluate your child's teeth and ensure Invisalign is in the best interest of your child. At Amazing Smiles, we will always help you decide on what type of braces your child truly needs. We always have our patients' best interest at heart.
If your child hasn't lost all his or her baby teeth but some permanent teeth have come in, then Invisalign First is a great option. Invisalign First is a new and improved way for younger patients offering an aligner specifically designed to target expansion, which is the most common treatment for children's teeth.
INVISALIGN OPTIONS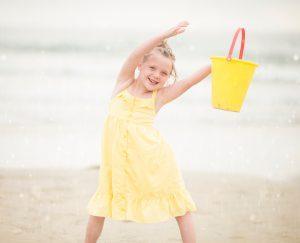 Invisalign First gives parents the option of not having to worry if their child is too young for Invisalign. With Invisalign First, Amazing Smiles now has the opportunity to widen the upper arch of your child's mouth, which is the first point in correction for straightening a smile. Invisalign First is the perfect alternative to the typical palate expanders you see in correcting a child's smile. It's safe to say that children, ages six to 11, are great candidates for Invisalign First. If your child is around 12 to 13 years of age, then Invisalign Teen is a great option for treating a variety of orthodontic cases such as crowding teeth, spacing, a crossbite and/or overbite.
Invisalign First typically corrects a child's malocclusions, manages erupting dentition and guides the dental arch expansion. The benefits with Invisalign over metal braces are also helpful for kids too. For example, you don't have to worry about broken brackets or metal wires poking your child's mouth, the treatment is faster which leads to fewer appointments, children can pop them out and put them in before and after eating which eliminated dietary restrictions and you don't need to worry about a lost aligner, you simply move to the next one.
INVISALIGN PREPARATION
Parents should always keep an eye out on their children's teeth and come in for early exams. This helps because as children grow, you can keep atop of their smile and ensure braces aren't put on prematurely. If you are considering Invisalign for your child, then look no further than Amazing Smiles. It's worth scheduling a complimentary Invisalign consultation so we can review and see if your child's mouth is ready for Invisalign or what age they would be. We will always put your child's health and needs first as together we achieve that beautiful smile!
Stay up-to-date with us on facebook