What is a suitable list of things to know when getting braces? Whether you are thinking about correcting a crooked smile or an overbite. We will go through what 10 things patients should know about braces before getting them.
What is a suitable list of things to know when getting braces? Whether you are thinking about correcting a crooked smile or an overbite. We will go through what 10 things patients should know about braces before getting them. Most patients may not know that getting braces is an option for them, this is why having a consultation with an orthodontist is necessary. By calling and setting up an appointment with your orthodontist, you will be one step closer to finding out what can be fixed or realigned with your smile.
Here are the 10 things to know when getting braces:
LIP BALM SHOULD BE PART OF YOUR DAILY ROUTINE
Lip balm is going to be crucial to your comfort during treatment. This is true even from the first day when your orthodontist applies the brackets to your mouth. This process can take a couple of hours, and there's no way to moisten your lips while it takes place. You'd be wise to bring some nourishing lip balm with you to your appointment to avoid discomfort.
FLOSSING WILL NOT BE AS EASY AS IT WAS BEFORE
Flossing has never been the easiest activity一although it's one of the most important一and braces don't help. Most people who have braces find flossing to be nearly impossible. While that may be true, it doesn't change the fact that cleaning your teeth is crucial to your health, with or without braces.
Some items that could help include flossing threaders, which help pull regular floss through the gap, or a water flosser, which uses a narrow stream of water to displace leftover food particles.
YOUR TEETH WILL MOVE A LOT WITHIN THE FIRST FEW MONTHS
Braces make quick work of reshaping the look of your teeth and smile. In just the first month alone, patients have noticed a straight set of teeth.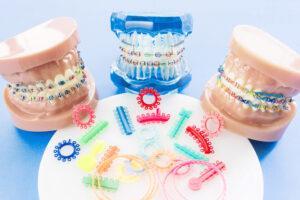 DEVELOPING A SLIGHT LISP IS THE MOST COMMON RESPONSE WHEN HAVING BRACES FOR THE FIRST TIME
So you may have a minor lisp when you get your teeth straightened with braces. Why? When you attach metal brackets to the teeth, there's almost no way that it won't impact the way you speak. Please don't worry if you find your speech impacted after getting braces, it will only take a short while before your speech returns to normal. It just takes a little bit of time to become used to after receiving a new set of braces.
SOFT FOODS WILL BE A NECESSITY
Going food shopping before receiving new braces is the best idea. Shopping for only soft foods will not only allow for an easily accessible snack time but prevent you from reaching for candy options.
IRRITATION INSIDE THE MOUTH IS NORMAL
Experiencing irritation on the inside of your lips and cheeks from your brackets and wires is normal. The soft tissues in your mouth get tougher over the course of the first few weeks. Mouth sores from braces aren't actually caused by the braces. Some people are susceptible to them and the braces may exacerbate the sores. To combat irritation and mouth sores from braces, make a saltwater rinse by dissolving ½ teaspoon of salt in a glass of warm water. Swish this around in your mouth and then spit it out. Repeat as needed. If this doesn't help consult your orthodontist immediately.
WHAT IS THE NORMAL LENGTH OF TIME TO WEAR BRACES?
When you visit your orthodontist to get your braces put on, they will often give you an estimate of how long you'll need to wear your braces. The more misaligned your teeth are, the longer you'll have to wear them. Do keep in mind, however, that this time frame is an estimate. As your orthodontist observes how your teeth move in your mouth in reaction to the braces, he or she may adjust the treatment period accordingly. An average time range for children and teenagers can be about 2 years, however, this depends on how misaligned a patient's teeth happen to be.
D.I.Y. IS NEVER THE WAY TO GO
While having a steady morning routine is important, deciding to do something yourself without the proper knowledge or advice can be damaging. If a band or a metal button happens to fall off, the patient should set up a meeting with their orthodontist so they can fix it. A patient should never try to reapply a piece of their braces by themselves.
ANYONE CAN GET BRACES
Orthodontic treatment has no upper age limit; if you have adult teeth, and they are misaligned, aligning them is a good idea. You do have to wait until most of the teeth are adult teeth and the 12-year molars have already erupted.
CONSULTATIONS ARE ABSOLUTELY NECESSARY
No question will go unanswered so patients can ask anything they wish! Asking your orthodontist a few questions and inquiries can help to ease the new sensation of having braces and what to expect in the next month or so.
We have more information available, we would love it if you view our other articles that detail aspects of lingual braces, metal braces, attachments, and more!
WHAT ARE INVISALIGN ATTACHMENTS?
Our latest article about Invisalign attachments covers the most common questions that are asked by patients. Check out that article here. Always be sure to call your orthodontist if an attachment falls out. This happens frequently and is nothing to worry about. Simply call and we will make sure everything is fixed immediately.
Also, if you need a 'FAQs' page, check out our page 'Ask An Orthodontist.'
ORTHODONTIC CARE IS AVAILABLE IN THESE LOCATIONS
If anyone is needing to visit our orthodontic care center, visit Amazing Smiles Orthodontist with convenient locations in Long Island,  Brooklyn, and Queens, NY. Amazing Smiles honors payment plans such as payment installments, insurance, flexible spending programs, and third-party financing.